Yare Challenge Cup, June 2015
The forecast was for sun and strong winds, but the morning brought grey cloud and light winds. With the promise of a strengthening breeze it was decided to choose the long course, turning just prior to Langley Woods
Five boats started against the tide. Melody and Kingfisher racing for the Yare Sailing Club and Bessie Bell, Anna and May for Coldham Hall. Anna took the initial lead, closely followed by Melody, with the rest of the fleet not far behind. At the end of Train Reach, May managed to go aground and watched Melody and Anna disappear into the distance, with the lead changing between them more than once. The rain then arrived and set in for the rest of the race.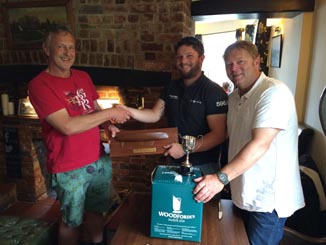 After turning at the mark, the fleet set off back to Coldham Hall. Shortly afterwards, the tide turned and the wind dropped resulting in a very slow beat to the Beauchamp Arms. However the main difficulty in making any headway was just before Rockland Short Dyke, with several boats visiting the same bushes on numerous tacks. At this point Bessie Bell decided to retire and shortly afterwards May joined them.
Anna, Melody and Kingfisher continued slowly towards Train Reach with Melody pulling ahead and finishing with a five minute lead over Anna, having been racing for over three hours. Kingfisher battled on, finally finishing forty minutes later.
After retiring to the pub, Nick Ebbage presented the Yare Challenge Cup , The Bessie Bell Trophy and a polypin of Woodfords to the winning helm of Melody, Arthur Wells.
Ruth Rhead